Sunday, July 24, 2011
Okay, so after our white water rafting adventure in CDO, we decided to visit one of the most popular beach destinations in the Philippines -- Camiguin. It has always been a dream to visit this small island, ever since I learned in Grade 3 that there's a small islet that disappears with the high tide, and again reappears with the low tide. I have carried that curiousity for more than 10 years already, and I really felt blessed to have been able to visit Camiguin in my lifetime.
Before I get too dramatic with my Camiguin experience, let me first warn you that the trip to the island is not as pleasant as I thought it would be. My friends and I thought that Camiguin would be like Boracay or Puerto Galera, where after you take a boat ride you'll reach a big shore with hundreds of resorts to choose from.
We were wrong, unfortunately. The trip to Camiguin was exhausting. But for what it's worth, Camiguin was definitely worth it.
Let me start with where we left off in our White Water Rafting adventure. Upon our arrival at the hotel, we immediately left for Camiguin. You see, from Cagayan de Oro city, there are two ways to get to Camiguin:
1)

Fast Craft (PaSeaCat)

: A fast craft that travels from CDO to Camiguin. Travel time usually takes around 2-3 hours.



Why we didn't travel this way:




Pricey (A ticket costs around Php 580.00 one way!)
Schedule Conflict: The PaSeaCat only has two schedules for the CDO-Camiguin route. The ferry leaves CDO for Camiguin at 8:30 AM, and back at 4:00 PM. No other schedules. So since we were leaving for Camiguin in the afternoon, there were no more trips via the fast craft.

2)

Long, hard way

: From CDO, bus ride to Balingoan Port, then Ferry ride to Camiguin. As you might have guessed, we travelled this way.
Now, onto the details. We took a jeepney from the hotel to the Bus Terminal located at Agora Market. Buses for Balingoan usually leave every hour, and we were lucky to be just in time, a bus was about to leave. Don't mind the barkers, just look for an airconditioned bus bound for Balingoan at the soonest possible time. The bus ride usually takes around 2 hours.

At Balingoan, we took a tricycle that took us to the port. Honestly, the port was a walking distance away from the bus terminal, and you can get there by foot. But, we were bakasyonistas back then and we didn't know how to get around and we got convinced by the

tambays

to take the trike... So there.


Upon arriving at the port, we bought tickets to ride the "roro" ferry bound for Camiguin. Ferries leave for camiguin every hour, I think. We were again lucky to be just in time for the ferry bound for Camiguin. The ferry ride was about an hour, and luckily it was around 5PM, so the sun wasn't too harsh. We stayed at the deck of the boat.


Top: Balingoan The Roro that would take us to Camiguin; Bottom: We stayed there during the 45-minute boat ride.


To our horror, it was already dark when we arrived in the town of

Mahinog

, Camiguin. And it wasn't what we expected. We didn't see a vast shoreline of white sand and numerous resorts anywhere near. Instead, it felt as if we were in a ghost town. It was dark, mountains were behind us, and we didn't know anyone! Worse, we didn't know where we'll be staying that night! We thought we'd select a resort upon arriving, but we couldn't see any resorts at all!

Luckily, we know of one popular beach resort in Camiguin, and that's

Paras Beach Resort

. We were pretty unlucky that time because when we called them, there weren't any available rooms! So what we did, we consulted one of the locals and asked where else we can stay. And

Manong

said there are other resorts near Paras, we can just take a look.

And so we did. We rented a multicab to Paras resort -- and it took us another 45 minutes!! OMG. By the time we reached Paras, it was around 7:30 PM already and we were tired, hungry, and sleepy. We walked around the block to look for a place to stay, and fortunately, there were a lot. Since we will be staying for 2 nights, we decided to get the cheapest place: One big room good for 12 people. Hahaha!

Sardinas

in one big can. At least it was air-conditioned, and it had a tiny Tv. That's good enough. =P

We had dinner in nearby eateries. You can eat at Paras but you have to pay Php 150.00 entrance fee (consumable). There's also an Italian restaurant nearby. But the best food for me would probably be in

Terrasse International Ristorante

. They serve really good food, and you can go there by foot (it's a bit dark in the towns of Camiguin, so better bring some flashlights).

Okay, the day finally ended and tomorrow our Camiguin adventure will begin. I'll continue again in another post, so stay tuned!



As a summary, here's how the rest of the afternoon of Day 2 went:



2:30 PM - Leave for Bus Terminal in Agora (via Jeepney)
3:00 PM - Bus ride to Balingoan
5:00 PM - Arrival in Balingoan
5:15 PM - Ferry Ride to Mahinog, Camiguin
6:30 PM - Camiguin Arrival
7:30 PM - Arrival at Paras Resort
7:30 PM to 8:00 PM - Looking for an alternative resort
8:15 PM - Settled Down
8:30 PM - Dinner / Ikot ikot
11:00 PM - Lights Off



And as for the expenses:



Php 7.00 - Jeepney Fare
Php 140.00 - Bus Fare
Php 6.00 - Tricycle Fare
Php 100.00 - Snacks at Port
Php 150.00 - Ferry Fare
Php 50.00 - Multicab Rental (Php 500.00 / 11pax)
Php 150.00 - Dinner
Php 365.00 - Resort Accommodation (2 nights at Pabua's Cottages -- In front of Paras Resort)
--------------


TOTAL: Php 968.00



For more information on other ways to get to Camiguin, please visit:


http://camiguinguide.webs.com/gettingtocamiguin.htm



Read More
Posted by

patsilog
at 10:42 PM
1 comment:

Links to this post
Wednesday, July 13, 2011
OKAYYYY! Here comes the juicy part! Last time, I talked about our
first day in Cagayan De Oro City
. Today, I will share our experience during our 2nd day at the City of Golden Friendship. And this is the reason why we came here -- White Water Rafting!
Which was actually quite funny, because when we got to the site, the water wasn't white AT ALL. We called it Chocolate Water Rafting instead, because the river was muddy in color. The Rafting guide told us it was probably because of the rain that occurred the day before. Whatever color that river is, we are all set to conquer it -- As Beginners of course. =P The Beginners trail has 21 Class 1 and Class 2 rapids. Sounds pretty scary, but in actual, it really was FUN!
So here's how the day went:
Day 2
6:30 AM
- Wake up / Breakfast (included in hotel package)
7:30 AM
- Bugsay Rafters picked us up from our hotel and brought us to the site.
9:00 AM
- Arrival at starting point of the White Water Rafting adventure
11:30 AM
- Arrival at end point
12:00 NN to 1:00 PM
- Lunch time at the end point. Food is okay, you'll spend around Php 200 per meal per person
2:00 PM
- Arrival at the hotel.
We decided to head straight to Camiguin that afternoon. I'll talk about our Camiguin trip on a separate note. For now, please do enjoy our Water Rafting Adventure.
Also just a little background on the rafting guide we got,
Bugsay
is quite satisfactory. Their gears and equipment were okay, and the guides were fun and informative. They had a separate rafter solely charged with taking pictures (and his name is Shadowman). Unfortunately, the photos aren't part of the package so you'd have to buy them for Php1000.00. Also you can't pick it up right away because they have to transfer it to a CD. We didn't have time to get the CD because we were headed straight to Camiguin that afternoon, so I asked my cousin who lives in CDO to pick it up for us and send it to me via mail. When the pictures arrived, I wasn't very satisfied with the photos. All photos had these black thingamagigs at the bottom. I had to post-process to remove them. Tsk.

Other than that, the photos were pretty fun to look at. Here are some photos we've enjoyed, and hopefully you'll also enjoy and inspire you to visit CDO and experience White Water Rafting. =) Please do click the photos to enjoy their full sizes.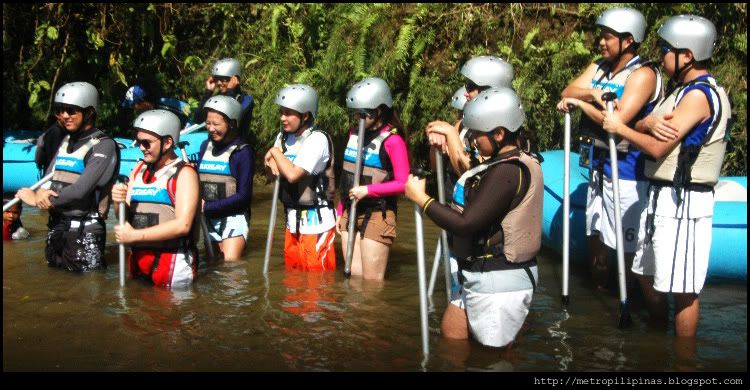 The rafting guide explaining the basics to us. If you are conscious of your color, I would advise you to wear Rash Guards because you'll be under the sun (if the sun cooperates) for about 2-3 hours.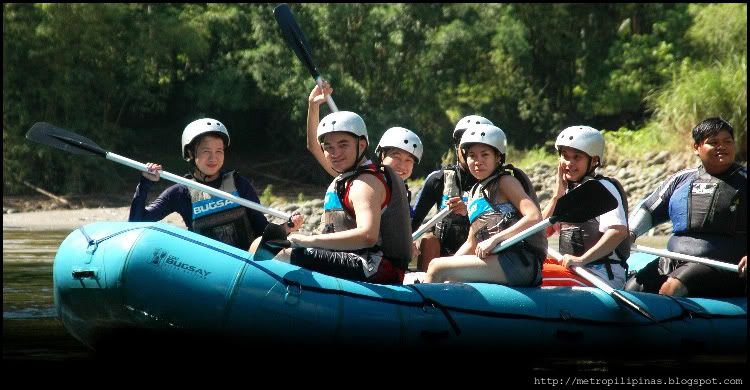 First Raft - The noobs. Mostly the singkits and the patpatins. Do you recognize our guide (rightmost)? Can you spot him HERE?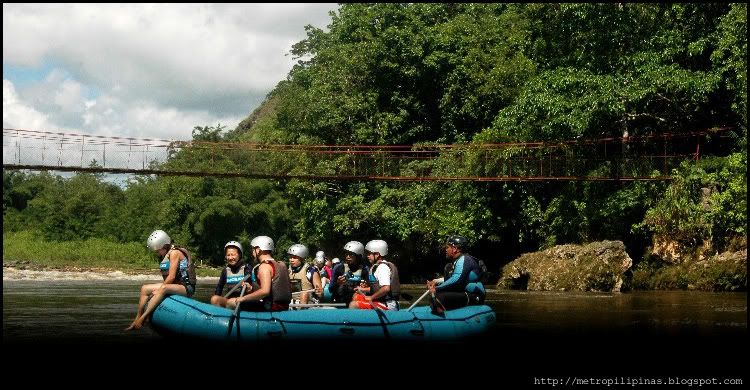 Our raft, near the hanging bridge. Marissa is our muse (sitting at the front of our raft).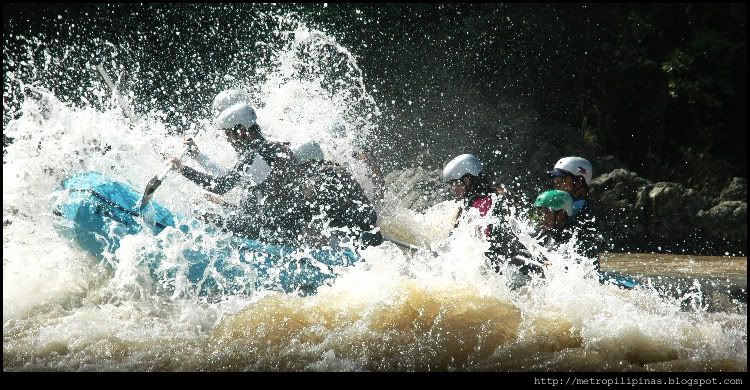 One of the rapids we had to overcome. This is the second raft -- Team Bigatin. Lahat sila mabibigat nyahaha!


Our guide intentionally made us head for that rock!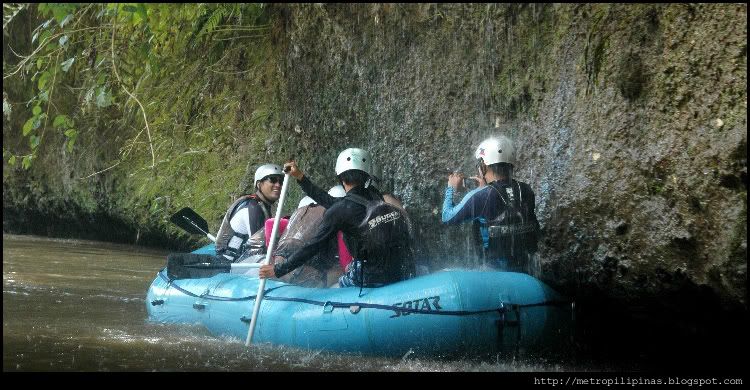 We passed by one of the mini-waterfalls. We thought it was probably the drainage of some bathroom atop the mountains.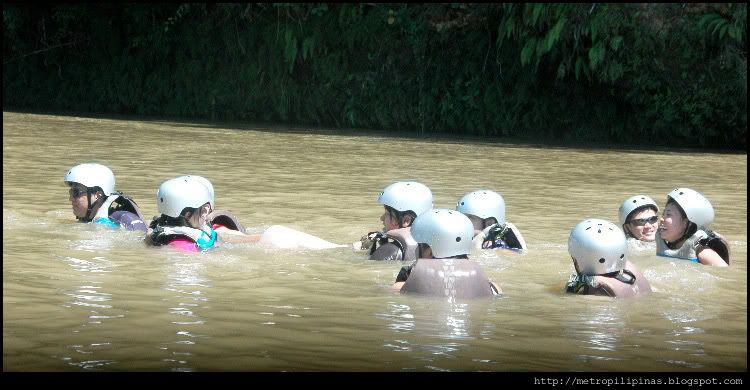 We got off the raft!! Crazy and fun and scary at the same time! We also went through the rapids without our rafts. You gotta try it.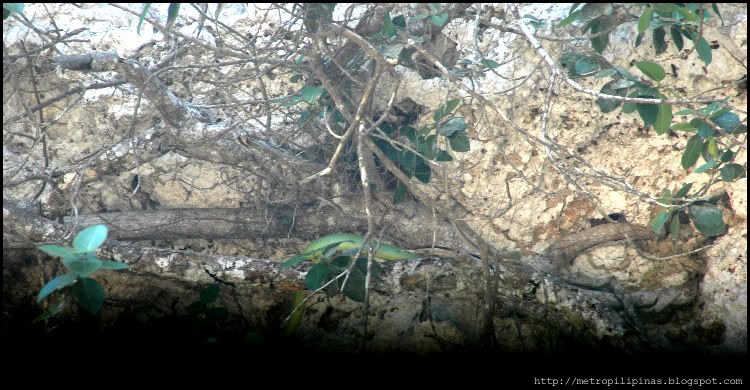 A snake decided to show up while we were passing the Snake Wall.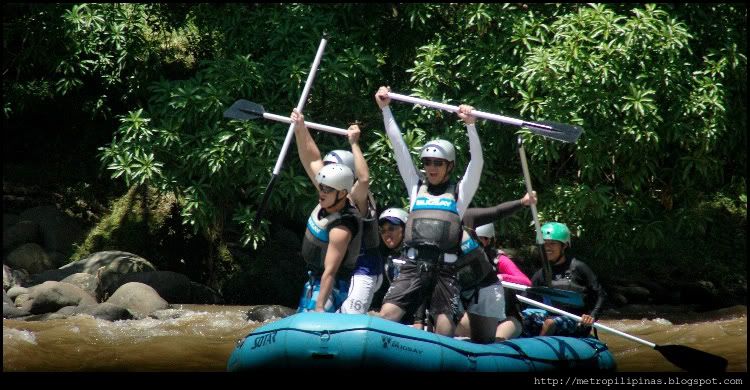 Success!!! Next White Water Rafting trip -- Extreme!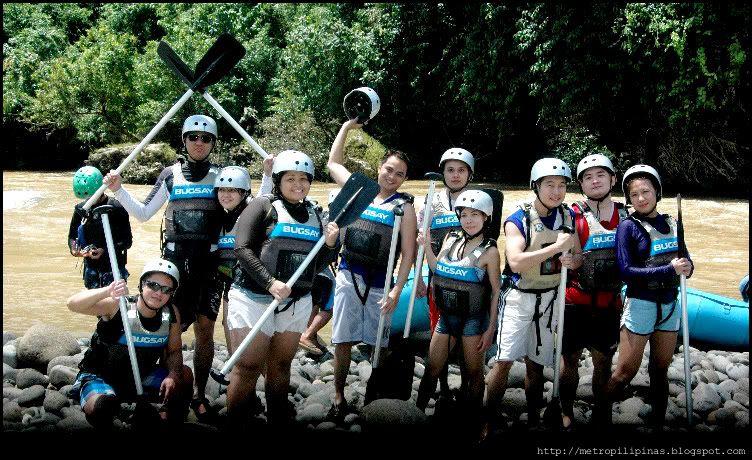 The Beginner White Water Rafters -- who had an awesome adventure conquering the rapids of CDO.




This morning's Damage (per person):


Php 700.00 - White Water Rafting (c/o Bugsay -- includes transpo to/from hotel)
Php 200.00 - Lunch
-------------------


Total: Php 900.00



Read More
Posted by

patsilog
at 2:13 AM
1 comment:

Links to this post
Tuesday, July 5, 2011
CDO CDO CDO!

The first thing that comes to my mind when someone says CDO is White Water Rafting. I've heard a lot of people and a few close friends raving about their adventure against the mighty river, and ever since then, I have been dying to experience that myself. Luckily, last year when my friends discovered the seat sale promo offered by
Air Philippines
, they booked for CDO immediately. And I have been looking forward to having this vacation for the past year! Ha, imagine the agony of waiting!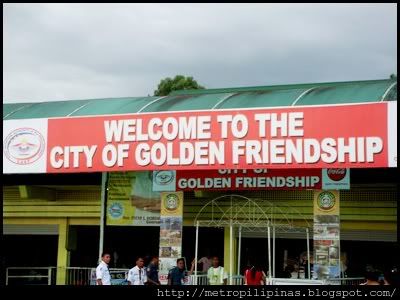 Anyway, our CDO trip was for 4 days and 3 nights, and we decided to spend 1 night in CDO and 2 nights in Camiguin. For now, I'll be sharing our CDO trip experience with you. =)
DAY 1

3:30 PM - Arrival in CDO
Upon landing at the airport, we decided to rent a van since we were a pack of 11. We negotiated with the van driver to bring us to the hotel for Php 600, and luckily he agreed. Also by that time, we haven't confirmed reservations for the White Water Rafting yet, but the heavens were smiling at us because the driver (who also became our tour guide) also worked for a rafting company as his 'sideline job.' He brought us first to their office and there, we scheduled our rafting adventure. The rafting guide we booked with was
Bugsay
.
We then checked in at our hotel at
Victoria Suites
. Not really a 5-star hotel, but okay enough for our needs. Air-conditioned with free breakfast and free wi-fi. Not bad at all. =)

It was a Friday when we arrived, and we were informed by Manong Driver that at night, the streets right in front of our hotel go alive as they hold their weekly "Night Market." Similar to our Banchetto in Manila, this is where stalls and stalls of food and food and food are sold. Plus, there's alcohol. And a live band. And lots of merchandise (toys, shades, etc.). Dinner was no longer a problem. And best of all, the name of the place is DIVISORIA (o ha!). We had dinner at the Divisoria Night Market. =P


Since we were only spending one night in CDO, we decided to explore the city. We rode the infamous

Motorela

-- a mini-jeepney powered by a motorcycle. Can accommodate up to 8 passengers: 6 at the back and 2 at the front (one sa left side ng driver, and the other sa right side).




8:00 PM - Bar



We asked what the nearest local pub was, and one of the security guards we asked answered "____." Tip: never trust the security guard especially when he's a bit old na than your generation. The bar we went to was... old. Haha. The songs they played were old, and one of the performers was... uhm, let's just say, already a Manong. Despite that, we did enjoy and we got to order the city's specialty: Ostrich. Tastes like beef AND chicken.




10:30 PM - Coffee and Cakes



We ended the night by visiting a nearby coffee shop, Vienna Kauffeehaus (no idea why they spelled it that way). They serve coffee and cakes, and all oh-so-yummy. Each mini-cake costs only Php 85.00, but they are good for 3 people already. Overall, we had a fun first night in CDO.




TODAY's DAMAGE (per person) :



Php 200.00 - Airfare (Sale, bought last year -- roundtrip)
Php 200.00 - Terminal Fee
Php 55.00 - Van Service to Hotel (Php 600 divided by 11 pax)
Php 250.00 - Hotel (Php 1500 per room, 6 persons per room)
Php 200.00 - Dinner at Night Market
Php 14.00 - Motorela (roundtrip to / from Hotel)
Php 200.00 - Drinks at Local Bar and Ostrich Meal
Php 150.00 - Coffee/Cake at Vienna Kauffeehaus
----------------------------------------------------


TOTAL: Php 1134.00





(To Be Continued -- Part 2: White Water Rafting)



Read More
Posted by

patsilog
at 8:21 PM
No comments:

Links to this post