Wednesday, March 30, 2011
Pilar, Capiz is my mother's hometown. When we were kids, we used to visit this little town off the coast of Capiz and spend the holidays there together with my cousins and other relatives. Back then, when everybody else had cable TV, the only channel they had was Channel 2, When everybody else had internet, they had party-line phones, when everybody had electricity, several houses are still using lamps and candles.
Revisiting my grandmother's house brought back a surge of memories: the streets where we used to play "Ins" (patintero in tagalog), hide and seek, and Langit Lupa. Nothing much has changed. They have caught up with technology, but they are still far behind. The vast shoreline where we used to gather small shells has now been turned into a fishport. The people. Oh what can I say about the people? Still the same, heartwarming and hospitable, innocent, and oblivious to the world's problems.
Pilar may be a small town, but it has a big space in my heart. It's one of those places where I really feel so secure, as if my own littles world is protected from the harsh truths that the real world is constantly slapping me in the face. If I do have kids and grandkids someday, I would want them to experience the beauty and innocence of this place. It is definitely a treasure.
Lola's house in Pilar.
The (only) catholic Church in Pilar, Capiz
The streets where we used to play at. This used to be all mud and dust and dirt.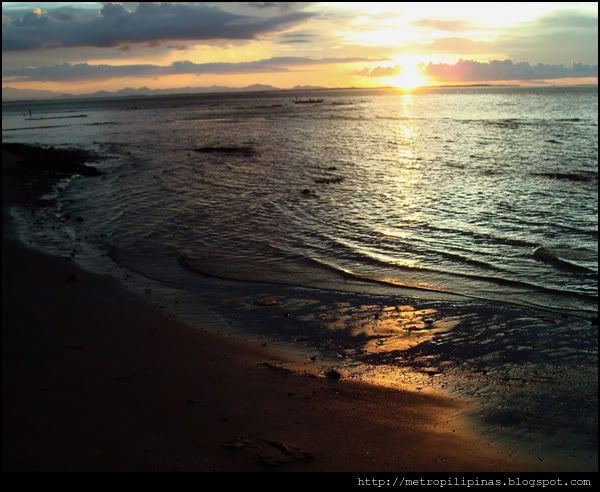 The beach in front of Lola's house -- Low Tide and gorgeous sunset
One of the popular twin caves that mark entry to the town of Pilar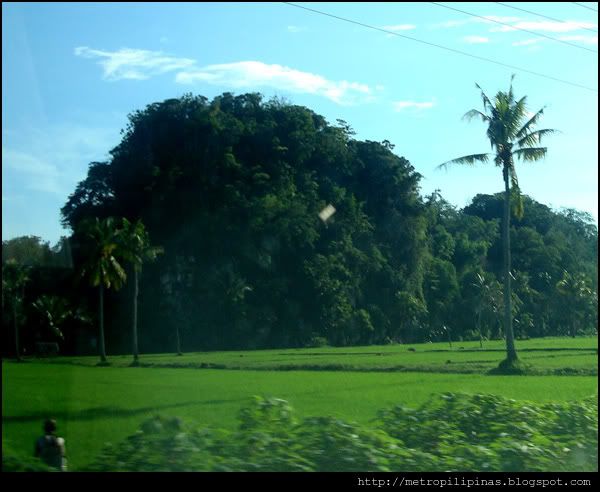 One of the popular twin caves that mark entry to the town of Pilar
The fishport, built recently.
Pilar, Capiz market
Three musketeers in the sunset
Playground at the park in Pilar, Capiz
Read More
Posted by

patsilog
at 11:40 PM
No comments:

Links to this post
Thursday, March 24, 2011
If you're in Cebu, you CANNOT miss CNT Lechon. They have the most mouth-watering, scrumptuous, and best tasting lechon I have ever known. Dine in or take home. Your choice. You just CANNOT miss it.
Affordable na, yummy pa! I've known some people actually ordering lechon all the way from Cebu even if they are in Metro Manila. Trust me, It's Just That Good.
Read More
Posted by

patsilog
at 1:44 AM
No comments:

Links to this post
Monday, March 14, 2011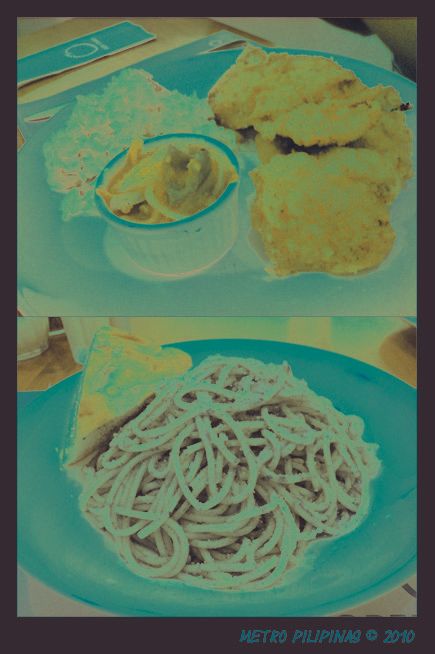 The Green Tomato is home to the best pesto in town-- well at least for me. I have no idea why I am so addicted to their Chicken Pesto. Maybe because the olive oil is just oozing, and that their pasta is cooked just right. And the serving size is also enough for two (but usually only enough for me). The sauce isn't creamy, the way I like it, and has less nuts -- also the way I like it. It's just heaven for me. And it's affordable too. For less than Php 200.00, you can have one of the best pestos in town.
As an Italian restaurant, they also serve pizzas and other pastas all good for sharing and more or less at Php 200.00. The prices aren't bad, right? A great alternative to the more expensive Italianni's. =)
They are located at the 6th floor of the Shangri-la Plaza Mall at EDSA Mandaluyong and can be contacted through: (02) 633-5348.
Read More
Posted by

patsilog
at 8:35 PM
No comments:

Links to this post