Sunday, August 8, 2010
Located at the heart of the Ayala Mall in Cebu City, Philippines, Mooon Cafe (Yes, with three O's) offers Mexican-Filipino dishes that would make you go "OOOh-la-la." Their menu consists of classic Mexican cuisines and refined Filipino dishes served by waiters and waitresses dressed up in traditional Mexican clothing. The ambiance is inviting, with orange lights surrounding the restaurant and large dining sets for those with big appetites. In addition, you get what you pay for: the quality of the food you're paying for is worth every coin you'll spend.
You have to be early though, because if not, you'll end up getting stuck in a long line other customers wanting to go to the Mooon.
* Price: A
* Serving: Medium
* Food: A
* Ambiance: A
* Service: B+ (the place gets too crowded sometimes)
Read More
Sunday, April 4, 2010
Who would have thought that the next best thing to a nature trip can be found right at the heart of Quezon City, Philippines?
I've always heard La Mesa Ecopark on television for donations and other nature-related activities, but I haven't actually visited it yet. I've always thought it was just another one of those boring nature trips where you plant trees, get sweaty, and that's it. But how wrong I was! The La Mesa Ecopark is actually much more than that. It is a great place to spend time with your family, friends, and loved ones and have fun while being environment-friendly. It's got everything you need -- picnic sites, trekking paths, biking grounds, colorful gardens, and clean, fresh air. Plus, you'll get to take a peek at the famous La Mesa dam. =)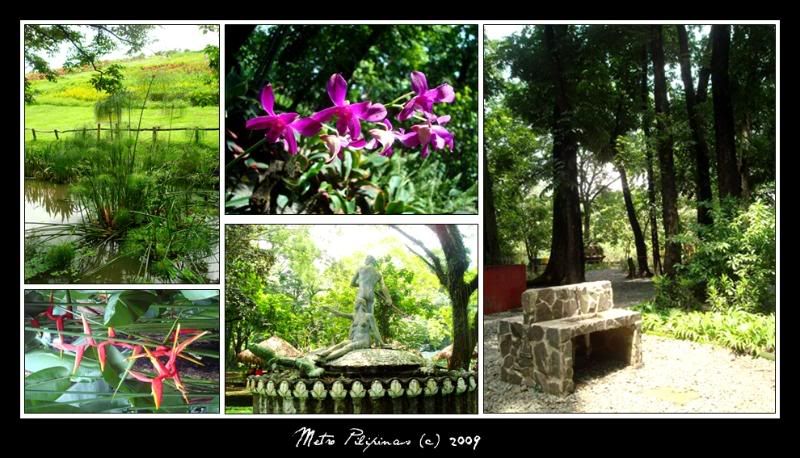 Please click image to enlarge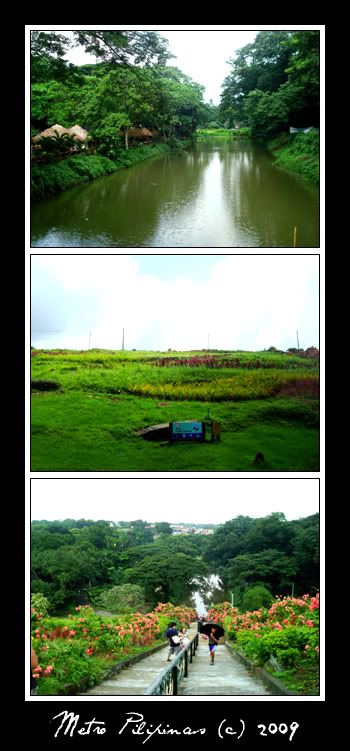 The park is free for all Quezon City residents, while an Entrance fee of Php50.00 is charge for those who aren't. It also has its own biking grounds, wall climbing area, and paintball arena. Rental of bikes also costs around Php50.00 to Php100.00 depending on the type of bicycle you'll get. And of course, there's a swimming pool nearby for those who want to get wet. All in all, it's everything you've been looking for in one great package.
La Mesa Ecopark has been a haven for photographers, a venue for pre-nuptial pictorials, and a venue for fitness and lifestyle. And it helps promote a clean and green environment! Not only are you having fun, you're doing something good for Mother Nature as well. I must say, La Mesa Ecopark is a must-try destination for one of your summer trips. It's cheap, but it's got everything you need!
For more information, you may visit their site at:
http://www.lamesaecopark.com/
Read More
Posted by

patsilog
at 9:05 PM
No comments:

Links to this post
Thursday, March 11, 2010
Summer is here once again! And if you're looking for a quick, low-budget, ultra nature trip, then Anawangin is the best spot for you. There are three main reasons why I love this place.
First, it's cheap. You'd only need to spend for the transportation to and from Pundaquit, Zambales. If you're with a group, it's better to rent a van because it's much cheaper. The next expense would be for the
banka
ride. You need to rent transport services using small boats from the mainland to Anawangin cove. You can also negotiate with the banka owner to tour you around the nearby islands (Capones and Camara). Be warned, though. You'll be riding really small boats, and the waves can sometimes be too strong. I advice you to put all the items that you want to remain dry in a plastic bag before putting them inside your bag. Your bags might get wet with the water splashes. Also don't forget the island entrance fee.
The biggest expense you'll have would be the food. There aren't any restaurants there (although there's a small
sari-sari
store now), so you would need to bring your own food, or cook your food there. Either way, you have to carefully plan this out. Make sure you use sealed containers because the ants will flock your tents.
Second, it's camping. Just bring your tents, camping gear, and you'll do fine. Also there's no electricity there, so make sure all your batteries are fully charged (even better if you have spares). Cellphone signals are also very weak, so your phones are practically useless. In other words, when you're in Anawangin, you should be tech-free. Well, maybe except for cameras. :)
There are public comfort rooms for taking a shower or taking a dump. There's also a common area for washing dishes. This is probably what the entrance fee is for. :)
Finally, it's simply enchanting. A close encounter with nature. The perfect life of a bum: Beach, sand, sun, hammocks, and a good old book to keep you relaxed. Stars shine more brightly at night. It's the perfect place to forget all your worries and problems.
A couple of things you also need to bring:
- Toiletries
- Slippers
- Socks (it might get cold at night)
- Lighters / Matches
- Plastic Bags (to keep your clothes dry, and also for your garbage)
- Swim Wear
- Small Pillow / Small Blanket
- Dishwashing Soap
- Utensils / Plates / Cups
- Snacks
- WATER
All in all, a budget of Php 2000 is okay for this trip. Maybe cheaper if you're in a group. =)
Read More