Monday, March 23, 2009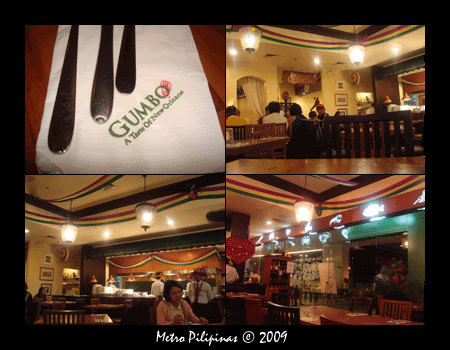 Gumbo is a stew or soup originating in Louisiana which is popular across the Gulf Coast of the United States and into the U.S. South. It consists primarily of a strong stock, meat and/or shellfish, a thickener, and the vegetable "holy trinity" of celery, bell peppers and onion. The soup is traditionally served over rice.

At least that's what Wiki has to say. But here in Manila, Gumbo is actually redefined into something else. It's A Taste of New Orleans in Manila, where you can experience not only its wonderful cuisine, but also the amazing ambiance of Jazz, French, and Mardi Gras combined.
Gumbo is the only restaurant in Manila that takes pride in serving the famous New Orleans' Cajun and Creole cooking. Their menu offers an assortment of interesting dishes cooked the cajun or creole way such as the jambalaya, smoked sausages, shrimp and oysters. More than that, the large servings of their dishes make it ideal for sharing for groups and families. And the price is just right, too.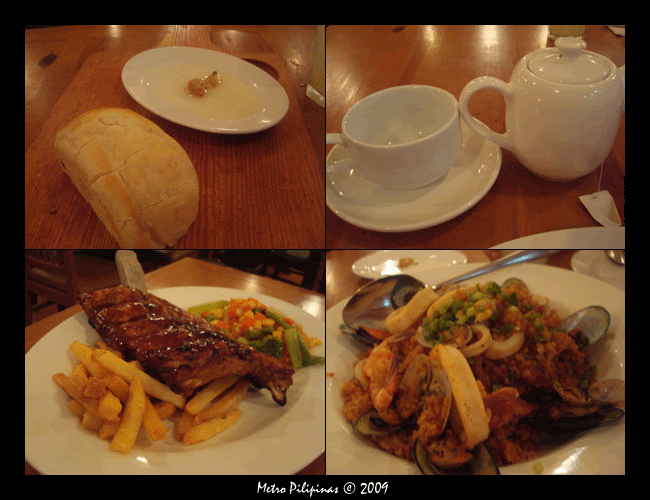 Moreover, Gumbo gives its guests a meal to remember because of the restaurant's overall ambiance and their wonderful service. The cozy, old fashioned furniture gives you the feeling of nostalgia. The energy of the music and the ornaments displayed are vibrant enough to keep you interested and looking forward to what more they can offer. Their polite and eager to help crew are there to make sure you get the best of what they have to offer. And it's not just the smile on their faces, but the fact that they want to make sure you get what you truly deserve.
Overall, Gumbo is a must visit! Try their branch at the SM Mall of Asia where you have a scenic view of the Manila Bay.
Here's my rating of Gumbo:
Price

: Each meal costs around Php200 - Php400

Serving

: Large

Food

: YUMMY! (Must Try: Seafood Jambalaya)


Ambiance

: A

Service

: A
Read More
Posted by

patsilog
at 8:09 PM
No comments:

Links to this post
Sunday, March 1, 2009
La Paz Batchoy is one of the the trademark, specialty dishes of La Paz, Iloilo. It has been commercialized by a few noodle companies but nothing truly beats the original. The true essence of Ilonggo Batchoy can be found here: Deco's.
Although the chain of batchoy stores has not reached the shores of Manila yet, it is a must-visit when you come to Iloilo. You cannot miss the taste of the noodles (called MEKE) with garlic, pork, liver, and chicharon, mixed together in one aromatic soup. Pair it with fresh pandesal or puto for an even more satisfying experience.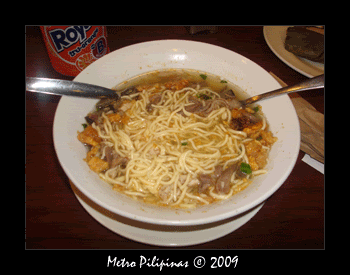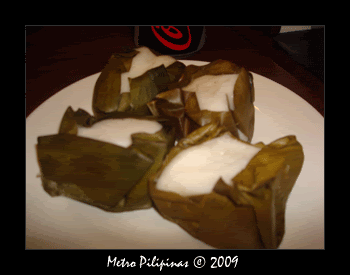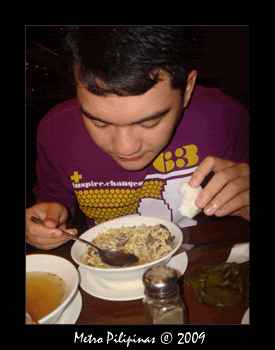 Each bowl of La Paz batchoy costs from Php45.00 to Php75.00. You can also order 4-pcs of puto for only Php20.00.

To satisfy your cravings visit any Deco's branches or call Deco's La Paz at 3201079

Read More
Posted by

patsilog
at 9:50 PM
No comments:

Links to this post