Sunday, February 22, 2009
Just recently SM Megamall has renovated a section of their mall to make way for the posh place now know as the Mega Atrium. It is located at the center of SM Megamall A and B, 2nd floor up to the 5th floor. Most shops here are those from The Podium, and the restaurants are a bit classier than the usual.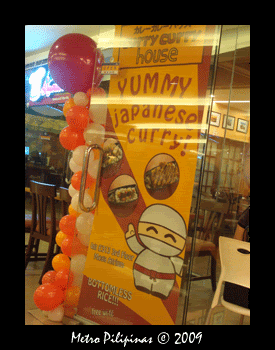 There, we discovered the Curry Curry House. It's a Japanese restaurant specializing in -- yep, you guessed it -- Curry. The interior is similar to any other Japanese restaurant, with wallpapers of some Japanese figure like a ninja, or samurai, or a woman dressed in a kimono, or the like. But the food is totally different.
They serve their food in a special curry sauce, which is terribly addicting but can be too "curry-ful" after one cup of rice. Oh yeah, their rice is also unlimited. More than that, each meal only costs Php 100 - 200 per rice meal, and that's not a bad price at all considering the size of their servings. It's one of those restaurants where you really get a good value for your money.
But then again, you can never get too much curry in a week. I'd say, I'll have curry once a month, but I can't have it more than once in a week. It'll be too much for me. But that's just me. :)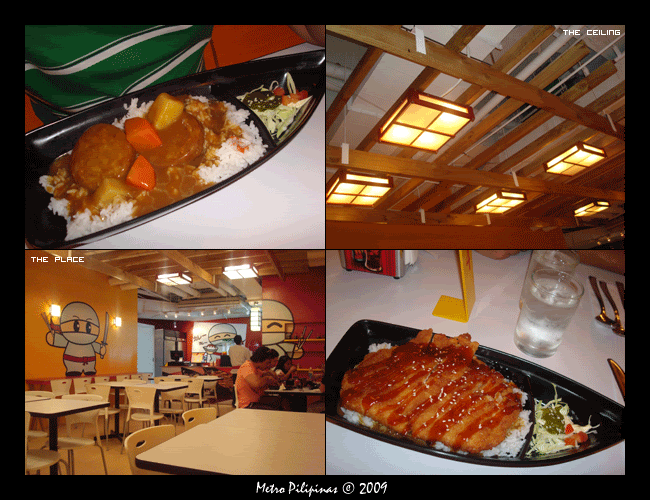 For more information about this restaurant, you may contact them at:
(63 2) 631-8470
Or you may visit them at:
3rd Level




SM Megamall Atrium




SM Megamall




EDSA cor. Julia Vargas Avenue




Mandaluyong, Metro Manila
Also just a few reminders:
- Budget range is Php 200.00 and below per meal
- Credit Card payment not allowed YET
- Eat-all-you-can Rice
Read More
Posted by

patsilog
at 6:51 PM
No comments:

Links to this post