Sunday, September 21, 2008
Iloilo: Angelicum Chapel @ Christmas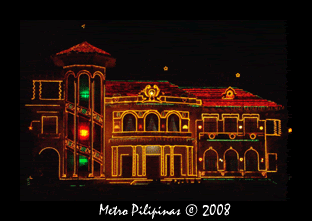 Each year, Angelicum chapel has one of the highest electricity bills come December. This is mainly because of the Christmas lights that they set up all over the Lezares Mansion inside the Angelicum campus in Iloilo City. For the residents, this has become an annual tradition, and most visitors who spend Christmas with them are given the chance to visit and marvel at this amazing showcase of lights.

Angelicum started this trend. Now, a lot of towns in Iloilo also adorn their parks and plaza's with lights. Pototan, for example, has their town plaza filled with different lights that wrap the trees and bushes. The Central Philippine University also followed Angelicum's trend and had their campus wrapped in lights.

If you're in Iloilo during the Christmas season, don't miss these spectacular lights.