Sunday, August 31, 2008
Philippines Zoo: Zoobic Safari (Subic)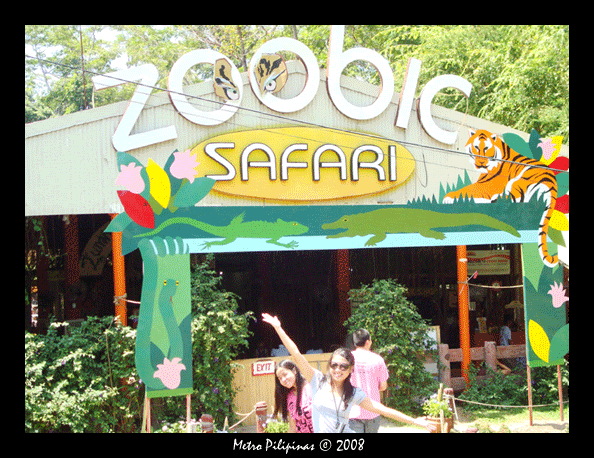 If you're going to Subic, please take particular notice of ALL STOP Signs and ALL SLOW DOWN Signs. Because just a little further, there's a bunch of traffic officers lurking who will consider no apologies from first time travelers who have "violated" their traffic ordinances. Apparently, they are pretty strict when it comes to their traffic signs. So if you happen to miss one Stop sign, you're pretty much dead and it'll pretty much cost you a hundred bucks per officer if you get caught.

Also if you're going to Zoobic Safari, DO NOT BE FOOLED by their "accommodation" package. They say that the hotel is NEAR the safari, but in actuality, it's a 15-minute ride by car. If you plan on walking, good luck. It'll take an hour before you reach the actual zoo.

The safari itself is nice. The animals are interesting, the layout of the place is nice, and the ambiance is really relaxing.


- Php 395 per adult for the day tour (that's approximately 3 hours of walking around the zoo with a tour guide);
- Php 200 for the chicken - so you can feed the tigers and have a much more exciting "close encounter" with them;
- Php 50 for the chicken - so you can feed the crocs;
- Php 240 and Php 540 to have your pictures taken with a tiger on your lap;
- Php 30 for one Magnolia Twin Pops ice cream.
Damn overpricing. Also don't miss their "SCRAMBALLED" Eggs when you plan to have breakfast at the zoo!! Hahaha!
But the close encounters with the animals is really something to remember. If you're planning a trip to Zoobic, I suggest not getting their overnight package because you'll be extremely disappointed with their accommodations, and unless you're not doing anything else, you'll just waste time sleeping in your room.