Wednesday, August 20, 2008
Manila Coffee Shop: Bo's Cafe
Bo's Coffee Club is a nice coffee shop. It really is, and they serve great coffee as well. But after my experience with them a few weeks ago, I don't think I'll ever step into one of their shops deliberately on my own, not unless I don't have any choice.

You see, after drinking their Cookies 'n Cream iced drink (I forgot what it was called, equivalent of Starbucks' Frappuccino), a few bites of their Lemon Tarte and Bo's Coffee Cheesecake, I had this terrible (Note: T-E-R-R-I-B-L-E) stomachache. Ugh.

The drink was okay. The cheesecake was... well, not what you'd expect but the taste was tolerable. The Lemon Tarte? Avoid it if you can. The lime didn't match well with the sweet icing and the after-taste is something you'd rather forget.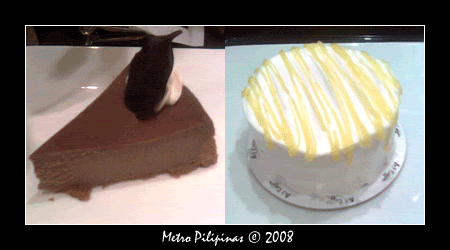 Bo's Coffee Club has shops usually in malls like Glorietta, Robinson's Galleria, The Block. It also has kiosks in some office buildings. For more information on their store locations, please visit: http://www.boscoffeeclub.com.